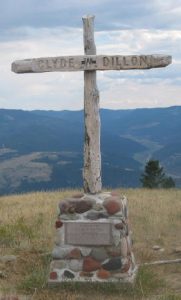 Welcome to the Clyde Dillon Memorial Webpage. This page is dedicated to Clyde Dillon, a member of the Dillon family who died in a freak snowstorm in rural Rio Blanco County, Colorado in the fall of 1941. Clyde's decedents continue to visit the memorial every few years to remember him over 70 years after his death. This website is run by Jake Esau, Clyde's great grandson.
Please sign the guestbook so that we know you were here!
Also, there is now a Facebook page for the memorial! If you're lucky enough to have cell service at the memorial (Verizon does), you can check in there.
Hit count since 7/5/2009: